M.Y. Beauty Lounge is a Hair & Beauty Salon in Simpsonville that is all about embracing your own unique hair texture, from straight to curly to very fine or outrageously thick! Everyone's hair should be celebrated. We pride ourselves in providing services that are tailored specifically for your type of hair. Whether your hair is dry, severely chemically damaged, or you need some guidance to help your hair look its best, we will work together to transform your hair into a flawless finish just for you. Also, take advantage of the many tips and tricks offered to care for your hair at home! M.Y. Beauty Lounge is dedicated to making you fall in love with your hair again!
Book An Appointment
Color
All-over High Definition Color

High definition custom mixing gel color system. Complete, unsurpassed gray coverage that stays true and natural. Our hair color contains exclusive Protective Barrier Complex, which conditions your hair as it colors.

100*
HD Color Retouch 
80*
Clear Gloss
Perfect option if you are looking to add a little something to your hair for a special event. This clear gloss adds great shine and acts as a sealer for color and long term conditioner to your hair.
40*
Dimensional Highlights – Full

Our professional products contain exclusive Protective Barrier Complex (PBX), which protects and conditions your hair during the lightening process.

130*
Highlights – Partial
85*
Highlights – Retouch
100*
Balayage / Chunks
Add a splash of color with a few foils or personalize your hair with hand painted color.
125*
Cuts
Women's Cut, Shampoo and Style
40*
Men's cut
Includes shampoo and style Includes shampoo and style
20*
Curly Cut
Perfect for curlies who wear their hair naturally most of the time. Curls are individually defined and then cut into your preferred style.
40*
Styling
Shampoo, Blow Dry & Style
This includes an invigorating shampoo and conditioner that suits your hair's needs, blow dry and finished style.
45*
Roller Set
Includes shampoo and finished style (blow-out, flat iron, etc).
80*
Curly Top
Embrace your texture by styling your hair with a twist-out, braid-out, or define your natural curls! Includes mini nightly style-maintenance lesson.
30*
Retexurizing
Relaxer
Includes moisturizing protein treatment and finished style.
70*
Curl Softening Texturizer
This mild texturizer helps decrease frizz while keeping your curls intact.
70*
Add-ons
 Hair Strengthening Treatment
This protein-based deep conditioner strengthens your hair and helps bring back softness, strength, and shine. Great for chemically-damaged hair, and hair types prone to split ends or breakage.
15*
Curly Cocktail
A rich, super-moisturizing deep conditioner to hydrate your dry curls.
15*
*Prices Starting At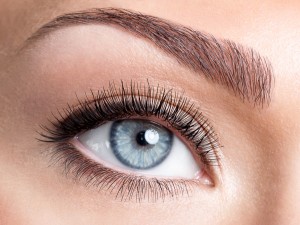 Flatter your face with beautiful brows. We take care of them the right way, and never rush through the process. After you share your brow likes, dislikes, and preferences, we assess them from every angle prior to shaping them into their best shape.
Are you sensitive to wax?
No problem! We use all-natural, organic sugar paste. It is never hot, less irritating and less painful than wax, and long-lasting.
Do your brows and lashes seem thin and sparse?
Frame and flatter your eyes with tinted lashes and brows, which give the appearance of thicker, fuller lashes and brows, and vibrant eyes. In just minutes, tinting gives even the finest, fairest brows and lashes a boost of color. Select from a variety of tints or have one custom-blended. This can last anywhere from 2 to 4 weeks, depending on skin type and aftercare.
Need even MORE ? Try our Lash Lift (Lash Curl) Service
Can be used as an alternative to lash extensions. Lashes stay lifted (curled) up to 6 weeks, and it's very low maintenance.
Services & Pricing
Lash & Brow Tint & Brow Shaping
60
Eyebrow design, tint, & style
35
Eyebrow Shaping
20
Eyebrow Tinting
15
Lash Tinting
25
Lash Lift / Lash Perm
55
Lash Extensions

Click on our dedicated page for more information. www.mybeautyloungesc.com/eyelash-extensions

150
Temporary Strip Lashes (included with makeup application)
15
Book An Appointment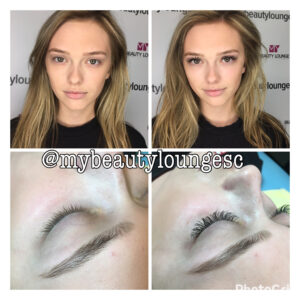 Eyelash Extension Pricing
Classic Eyelash Extensions Full Set  Includes homecare kit
150*
Eyelash Extension Fill  45 Minutes
45
Eyelash Extension Fill  60 Minutes
60
Eyelash Extension Fill 75 Minutes
75
Consulation & Patch Test Must be performed 48 before your first full set.
20**
Eyelash Cleaning Fee
20
*Prices Starting At **$20 Deposit is non-refundable and will be applied toward your first full set.
What are semi-permanent eyelash extensions?
Semi-permanent lash extensions are a unique way to extend the length & increase the thickness of your natural lashes. Lash extensions are meticulously applied to the individual natural lashes, shedding away with the natural lash.
Are lash extensions safe, comfortable & damage-free? Yes, if applied correctly & professionally. Your lash tech will assess the length, thickness and health of your natural lashes and apply a bespoke set of lash extensions that can be safely supported by your own. Each natural lash is isolated, and a single extension (or fan if the Russian Volume technique is used) applied to it, close to the lash line but without touching your skin. Eyelash extensions can be safely worn, week after week, month after month, year after year, with no breaks, if desired. The bad press & rep that lash extensions suffer is due to the fact there still remains a lot of untrained -or poorly trained- lash techs who unfortunately continue to apply extensions that are too long, thick, or with too much adhesive; causing damage to the natural lashes -which is sometimes permanent. It's so important that clients do their research before their lash treatment. A correct & professionally applied set of lashes should feel comfortable and lightweight and you will not know that you are wearing them. The treatment should be pain-free and relaxing, most clients fall asleep!
Can I choose any look I want? The 'finished product' will depend on your natural lashes, 'we can only work with what you've got!' It's important for clients to have realistic expectations. If you are blessed with a set of strong, thick, long natural lashes I will be able to achieve a fuller look than if you have sparse, fine natural lashes. I can only apply one extension onto one natural lash, enhancing what is already there, opposed to creating something out of nothing. I do offer a large lash menu and use a range of advanced techniques to create the best looking set possible. The style, shape & other particulars are all discussed during the initial consultation. If you decide to change the look/style of your lashes as time goes on, adjustments can be made during infill appointments. However if the changes you request are more extreme and require different types of extensions or completely different shape, you may require a removal & application of a new set.
Why do I need a consultation & patch test? Client safety & lash health is a priority at M.Y. Beauty Lounge. At least 48 hrs before your lash appointment you will be invited for a 15-30 mins consultation, where you will be patch-tested with the products used in the studio to ensure that you do not have any negative/allergic reactions. You will complete a client consultation & consent form, and if there are no contraindications that may prevent you from wearing lash extensions 4-5 short & fine extensions will be applied onto your natural lashes. We will also discuss the look you'd like to achieve with your extensions and take photos of your eyes to determine what will suit you best. If after 48 hours you show no adverse reactions then you're safe to wear lash extensions! A $20 non-refundable deposit is due at the time of booking the consultation. The deposit will be applied toward your first set of eyelash extensions.
How long will the treatment take? Treatment time varies, ranging from 1.5 hrs to 3 hrs for the initial set. It's dependent on what specific service you choose. After the treatment you will be given a comprehensive after-care leaflet, with hints & tips on how to care for your new extensions and get the best out of them.
Are there restrictions to wearing lash extensions? Clients must be aged 18 and over. They must be able to lie flat with their eyes shut for the entire treatment time. Clients who suffer from claustrophobia, twitchy or water eyes may not be suitable; however this is something we can discuss during the initial consultation.
How long do extensions last? As the extensions are attached to one natural lash, they will shed along with your natural lashes. We lose on average between 2-5 lashes/day, which means that maintenance lash fills are required every 2-3 weeks to keep your set looking its best. If your extensions were a one-off you can choose to let your extensions fall out naturally over the course of 3-6 weeks or get them removed professionally.
How do I take care of my extensions? You must be gentle & careful with your new extensions as they're very delicate. You must wash them daily with antibacterial lash & lid cleanser. You must not wear any mascara on the extensions and you must be careful of using eyeliner on the upper lid. Some ingredients in eyeliners can break down the adhesive, as well as causing them to stick together. This makes it difficult for you to keep your extensions and eyelids clean & free from lash mites. Lash mites feed on unclean lash adhesive & makeup residue and can lead to eye infections such as a blepharitis. Please note that if you arrive at your infill appointment with dirty extensions and evidence of makeup residue we will not fill your lashes -you will require a removal followed by a new set.
Why is there a difference in prices between different lash specialists? The old saying 'you get what you pay for' couldn't be more true in the case of lash extensions! The process requires great skill & patience and should only be undertaken by a highly trained professional. Great lash specialists invest time & money in their training continually, use products of the highest medical grade quality; all of which does not come cheap. As full sets take anywhere between 1.5-3 hours, it's not a speedy or cheap treatment for either the client nor the therapist. Unfortunately there still are too many sub-standard salons where lash extensions are offered for little money (i.e. $35), using poor quality products, no isolation of the natural lashes; contributing to the bad rep of lash extensions as causing damage to clients' natural lashes. There are lots of therapists out there offering lash extension treatments, but there are few who are highly skilled & qualified lash specialists.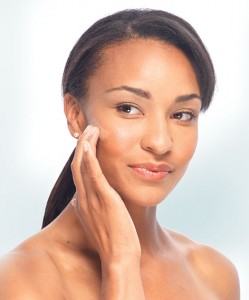 Are you interested in improving the health and appearance of your skin?
Whether you are trying to smooth fine lines and wrinkles, improve the texture of your skin, even out skin discoloration, reduce redness or clear acneic/blemished skin, our Certified Skin professional has a treatment that is right for you.
YOU ARE IMPORTANT TO YOUR SUCCESS
– Although you come to our licensed professionals to achieve healthy, beautiful skin, how you treat your skin at home is critically important to your success. Regular use of a simple, customized regimen will provide you with even more dramatic results. We proudly carry
Skin Script Rx
in our studio. We will guide you through the process of selecting the products that are right for you.
Facial Treatments
Spa Facial
This relaxing one hour classic facial treatment is the first step to healthy, radiant skin. It includes a thorough cleanse, tone, mild enzyme exfoliation, facial massage, and soothing mask. This facial will provide a relaxing atmosphere, and a healthy glow to your skin.
75
Anti-Aging Hydration Facial
Our rejuvenating treatments are customized to treat and control fine lines, wrinkles, sun damage, uneven texture and laxity. Regular treatments help to achieve and maintain a fresh, bright, youthful complexion. This treatment includes increasing the skin's antioxidants, stimulation of collagen and elastin, UV protection, and more. It will leave your skin looking and feeling younger.
75
Detoxifying Anti-Acne Facial
This 60 to 75 minute treatment is excellent for acne-prone, irritated, inflamed, or congested skin. Our customized breakout-clearing treatments simultaneously address all of the main causes of acne, leading to an even, clear complexion. We infuse the skin with antibacterial, acne controlling ingredients. Great for Teens!
75
Brightening Facial
Are you troubled by dark spots from the sun, pregnancy or past blemishes? Regardless of the reason for your skin discoloration, our customized treatments address the underlying causes of unwanted pigment to even your complexion. This treatment lightens, brightens, and balances uneven skin tones, and helps to restore the skin's natural radiance.
75
Rosacea Relief
If you suffer from rosacea or skin that always seems red or irritated, we provide gentle treatments especially for your skin needs, infusing the skin with anti-inflammatory, redness-reducing and skin-strengthening ingredients. This treatment helps restore circulation, reduce irritation and redness, calms the skin, and fights broken capillaries.
75
Facial Peels
Corrective Peel Treatment Initial Consultation
Required for all first-time clients who would like to receive chemical peel or peel alternative treatments. This consultation includes: a complete client profile, a skin analysis, a patch test, a 30-minute basic facial, and a trial size pre-treatment kit. Please allow 10 to 14 days from your initial consultation to your first chemical peel treatment.
75
Corrective Facial Peel Treatment
Each Corrective Peel Treatment is tailored exactly for you. They deliver refreshed, hydrated, and perfected skin, without discomfort or down time. This service is customized based upon your needs and desires that were previously discussed at your consultation appointment. Skin conditions that are commonly treated with chemical peels are: acne, hyper pigmentation, fine lines and scarring, and sensitive skin. Corrective peel treatments work best when they are performed in a series of 6 to 8 treatments – 1 to 4 weeks apart (depending on the skin condition).The first peel treatment Includes a trial-size post-procedure solution kit.Price includes up to 2 peel layers (25 ea additional peel layer)
95
Available Peel Options
Glycolic Peel – For normal/combination skin.
This cell renewal peel is a great classic on its own, but is also an excellent booster to any enzyme peel.
Lactic Peel with Kojic and Arbutin – For normal to dry skin with irregular pigmentation.
Arbutin and kojic acid work with the hydrating properties of lactic for an extreme lightening peel.
Trichloroacetic Acid (TCA) Peel – For all skin types (except sensitive or rosacea skin) with irregular pigmentation. Great for Fitzpatrick's 1-6, but carefully formulated for creating an even skin tone and texture for darker skin types. Perfect for hyperpigmentation and melasma.
At M.Y. Beauty Lounge, a flawless makeup application in a relaxed studio setting is for any time you want to feel like the most beautiful woman in the room. Whether you're looking for a new daytime look, going out for a night on the town, or getting married, we will give you the look you will LOVE.
As experienced makeup artists, we believe that makeup artistry is not merely about applying color or concealing flaws. It's about boosting your confidence and letting your inner beauty shine through. You are our priority! We focus on accentuating your natural beauty, and personalizing a look that you will love. We also focus on making you feel at ease and relaxed, and creating a fun environment. It's your day! Have fun with it!
We use a combination of airbrush and conventional products that do not feel heavy on the skin, yet stay intact throughout the day. We customize the use of our  products in order to complement your skin type, and execute your desired look based on your specific preferences.
When it comes to makeup artistry, you can count on 100% mobility. When requested, we come to you! Whether it's for bridal, corporate events, production, live performances, or photography, we've got you covered.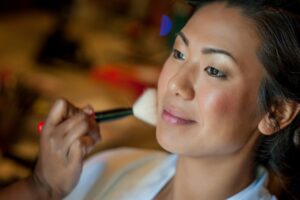 Bridal and Special Event Makeup & Hair Styling
Special Occasion Hair Styling: Our hair products of choice are top-of-the-line. This will ensure us that your hair will be shiny, silky, smooth, and intact throughout the day. We are skilled in all hair textures. Whether thin or course, straight or curly, short or long, we'll make it look stunning! Hair styling also includes wash, blowout, and trim (if requested) if the service is provided in our salon. Interested in extensions? We're also happy to help!
Hair and Makeup Previews: We highly recommend a makeup and hair preview so that you can feel 100% happy with your wedding look. It is the perfect opportunity to try your favorite look in a relaxed environment. During your bridal preview, we will also make recommendations on how to care for your skin and hair so that they look and feel their absolute best on your wedding day. Previews are held in our salon only. Additional charges may apply for subsequent previews.
Pricing: A $400 minimum is required to provide on-site services. A deposit of 50% of the grand total and a signed agreement are due in order to hold your date. The remaining balance is due 7 days prior to the wedding date. Rates include travel expense to your location on your wedding day if you are within 15 miles of Simpsonville. Rates also include temporary strip lashes (if requested). *Rates for hair services may vary based on the density and length of the hair, and complexity of the desired style.

Bride – Preview and Wedding Day
Makeup and Hair
250
Makeup Only
135
Hair Only
125
Bride – Wedding day Only (Without Preview)
Makeup and Hair
135
Makeup Only
75
Hair Only
65*
*Prices Starting At
Bridesmaids and Family
Makeup and Hair
115
Makeup Only
60
Hair Only
60*
*Prices Starting At