Book An Appointment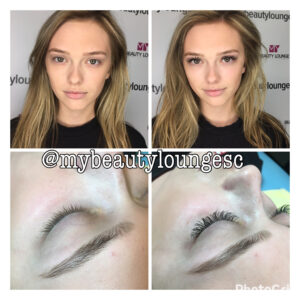 Eyelash Extension Pricing
Classic Eyelash Extensions Full Set  Includes homecare kit
150*
Eyelash Extension Fill  45 Minutes
45
Eyelash Extension Fill  60 Minutes
60
Eyelash Extension Fill 75 Minutes
75
Consulation & Patch Test Must be performed 48 before your first full set.
20**
Eyelash Cleaning Fee
20
*Prices Starting At **$20 Deposit is non-refundable and will be applied toward your first full set.
What are semi-permanent eyelash extensions?
Semi-permanent lash extensions are a unique way to extend the length & increase the thickness of your natural lashes. Lash extensions are meticulously applied to the individual natural lashes, shedding away with the natural lash.
Are lash extensions safe, comfortable & damage-free? Yes, if applied correctly & professionally. Your lash tech will assess the length, thickness and health of your natural lashes and apply a bespoke set of lash extensions that can be safely supported by your own. Each natural lash is isolated, and a single extension (or fan if the Russian Volume technique is used) applied to it, close to the lash line but without touching your skin. Eyelash extensions can be safely worn, week after week, month after month, year after year, with no breaks, if desired. The bad press & rep that lash extensions suffer is due to the fact there still remains a lot of untrained -or poorly trained- lash techs who unfortunately continue to apply extensions that are too long, thick, or with too much adhesive; causing damage to the natural lashes -which is sometimes permanent. It's so important that clients do their research before their lash treatment. A correct & professionally applied set of lashes should feel comfortable and lightweight and you will not know that you are wearing them. The treatment should be pain-free and relaxing, most clients fall asleep!
Can I choose any look I want? The 'finished product' will depend on your natural lashes, 'we can only work with what you've got!' It's important for clients to have realistic expectations. If you are blessed with a set of strong, thick, long natural lashes I will be able to achieve a fuller look than if you have sparse, fine natural lashes. I can only apply one extension onto one natural lash, enhancing what is already there, opposed to creating something out of nothing. I do offer a large lash menu and use a range of advanced techniques to create the best looking set possible. The style, shape & other particulars are all discussed during the initial consultation. If you decide to change the look/style of your lashes as time goes on, adjustments can be made during infill appointments. However if the changes you request are more extreme and require different types of extensions or completely different shape, you may require a removal & application of a new set.
Why do I need a consultation & patch test? Client safety & lash health is a priority at M.Y. Beauty Lounge. At least 48 hrs before your lash appointment you will be invited for a 15-30 mins consultation, where you will be patch-tested with the products used in the studio to ensure that you do not have any negative/allergic reactions. You will complete a client consultation & consent form, and if there are no contraindications that may prevent you from wearing lash extensions 4-5 short & fine extensions will be applied onto your natural lashes. We will also discuss the look you'd like to achieve with your extensions and take photos of your eyes to determine what will suit you best. If after 48 hours you show no adverse reactions then you're safe to wear lash extensions! A $20 non-refundable deposit is due at the time of booking the consultation. The deposit will be applied toward your first set of eyelash extensions.
How long will the treatment take? Treatment time varies, ranging from 1.5 hrs to 3 hrs for the initial set. It's dependent on what specific service you choose. After the treatment you will be given a comprehensive after-care leaflet, with hints & tips on how to care for your new extensions and get the best out of them.
Are there restrictions to wearing lash extensions? Clients must be aged 18 and over. They must be able to lie flat with their eyes shut for the entire treatment time. Clients who suffer from claustrophobia, twitchy or water eyes may not be suitable; however this is something we can discuss during the initial consultation.
How long do extensions last? As the extensions are attached to one natural lash, they will shed along with your natural lashes. We lose on average between 2-5 lashes/day, which means that maintenance lash fills are required every 2-3 weeks to keep your set looking its best. If your extensions were a one-off you can choose to let your extensions fall out naturally over the course of 3-6 weeks or get them removed professionally.
How do I take care of my extensions? You must be gentle & careful with your new extensions as they're very delicate. You must wash them daily with antibacterial lash & lid cleanser. You must not wear any mascara on the extensions and you must be careful of using eyeliner on the upper lid. Some ingredients in eyeliners can break down the adhesive, as well as causing them to stick together. This makes it difficult for you to keep your extensions and eyelids clean & free from lash mites. Lash mites feed on unclean lash adhesive & makeup residue and can lead to eye infections such as a blepharitis. Please note that if you arrive at your infill appointment with dirty extensions and evidence of makeup residue we will not fill your lashes -you will require a removal followed by a new set.
Why is there a difference in prices between different lash specialists? The old saying 'you get what you pay for' couldn't be more true in the case of lash extensions! The process requires great skill & patience and should only be undertaken by a highly trained professional. Great lash specialists invest time & money in their training continually, use products of the highest medical grade quality; all of which does not come cheap. As full sets take anywhere between 1.5-3 hours, it's not a speedy or cheap treatment for either the client nor the therapist. Unfortunately there still are too many sub-standard salons where lash extensions are offered for little money (i.e. $35), using poor quality products, no isolation of the natural lashes; contributing to the bad rep of lash extensions as causing damage to clients' natural lashes. There are lots of therapists out there offering lash extension treatments, but there are few who are highly skilled & qualified lash specialists.